Buying a home, for the first-time, is stressful and exciting at the same time. It's easy to make costly mistakes if you're inexperienced as you make huge financial decisions. First-time homebuyer tips enable you to sail through the process and avoid costly mistakes.
First-time homebuyer faces unique obstacles, for instance, they don't have equity in a house to use for the down payment. This issue makes many people avoid buying a home, but it doesn't have to be that way. Today, there are many ways first-time homebuyers can get a home with little to no money out of their pockets.
As long as you do not get into the market for the wrong reasons because it's a buyer's market or all your friends are buying. Homeownership can be a smart long-term investment when you're financially and emotionally prepared for it. It's the biggest asset that you will ever own – so it is important to be fully informed with the right tips and strategies before you get into it.
First-Time Homebuyer Tips
Copyright: Image by StockUnlimited
Buying a home for the first-time is exciting! You are ready to take the next step in adulthood. Before you do, though, I have put together the first-time homebuyer tips to help you make the process successful:
1.Save as much money as possible for a down payment
You don't need 20% down on a home to get a mortgage today, but the larger your down payment, the lower your monthly payment. Larger down payments often get you lower interest rates and fees too. Remember, you'll pay not only the down payment but closing costs too, which can cost as much as 5% of your loan amount.
2. Maximize your credit score
Start working on your credit as early as possible. The higher your credit score is, the more likely you are to get approved for a good loan program, such as a conventional or government-backed loan. Make your payments on time, decrease your debts, and avoid taking out new loans or opening new credit cards.
3. Know your down payment options
Don't assume you need 20% down on a home. There are many first-time homebuyer programs available today that allow as little as 3.5% down. You may even find down payment grants or be able to accept 100% of your down payment as a gift from a relative, employer, or charitable organization.
4. Get pre-approved
When you are ready to look at homes, find a few lenders, and get pre-approved for a loan first. You need to know how much you can afford. You may have a number in mind, but lenders may think differently after looking at your income, assets, and credit score.
5. Determine how much you are comfortable paying each month
Don't assume you have to take the maximum loan amount a lender says you can afford. That approval is on paper. Put the number into your budget. How does it feel? Do you worry about making your payments? It's okay to borrow less than the full amount a lender approved.
6. Shop around
Lenders offer different rates and fees. They even have different programs. Some lenders are stricter with their guidelines than others. Get quotes from at least three lenders. This way, you know what options you have and can choose the one that makes the financial sense.
7. Explore your home options
You don't have to buy a single-family home to be happy. Think about the amount of room you need and the features you desire. Are you ready to handle outside maintenance and repairs? Do you have the money to manage roof, siding, and landscaping repairs and maintenance? If not, a condo or townhome may be a better option for your first home.
8.Find a reputable realtor
Sure, you can look for the right home on your own, but the chances are that you'll miss quite a bit. The right realtor has access to the latest listings, the little-known areas filled with perfect homes, and even short sales that may land you a great deal on your first home.
If applied correctly all eight first-time homebuyer tips can help you pull off a cost-effective, and hustle-free home buying experience!
Related post: How to Save Money for a House in 17 Sure-fire Ways
First-Time Homebuyer Mistakes to Avoid

Copyright: Image by StockUnlimited
Now that you know the top first-time homebuyer tips let's look at the mistakes first-timers often make.
1. Forgetting about closing costs
We touched on this above. You must budget for closing costs. Shop around for a lender that offers closing costs you can afford, but expect to pay around 3% – 5% of the loan amount.
2. Not knowing how to negotiate
You shouldn't pay a home's listed sales price. There's always room for negotiation and not just in the price. You should negotiate the terms of the sale, including contingencies that protect your interest should something not pan out during the inspection or appraisal.
3. Looking at homes before getting pre-approved
Why shop for homes you may not be able to afford? Get pre-approved from at least a few lenders so you can tailor your home shopping within your budget.
4. Not leaving money in your bank account
Buying the home is just a part of the expenses. Once you're in, you have to turn on the utilities, furnish it, and maintain it. Don't forget about moving expenses too. There are many expenses you'll need plenty of 'extra' money to cover once you hold the keys.
5. Ruining your credit after pre-approval
Don't assume you are 'golden' once you have the pre-approval. Keep your credit status quo, or as close to it as possible. Lenders will pull your credit at least one more time, if not more. If your credit score drops, you may lose your approval.
6. Changing jobs after pre-approval
Lenders will also check your employment and income again, even after pre-approval. Many do this right before the closing. If you changed jobs, you would put your approval at risk.
7. Not thinking of the future
Don't buy a home that suits your needs now. Think of your future. Will you get married or have kids? Is the home large enough for a growing family, or will you outgrow it the minute your family status changes?
Moving and getting a new mortgage is expensive, make your choices wisely. Think about where you see yourself and your family in five to 10 years?
8.Overlooking the neighborhood
When you buy a home, you buy into a neighbourhood or community. Make sure you check out the neighbourhood on different days and at different times.
What's the nightlife like? Do the neighbours seem friendly? Don't be afraid to get out and talk to some of them – they will become a part of your life if you buy the home.
9. Not aligning your pay with mortgage payment
There are many ways to make your mortgage payment, for instance, weekly, biweekly, semimonthly and monthly. Make sure to align your mortgage payments with your pay.
If you get paid biweekly pay either weekly or biweekly. Accelerated biweekly payments are very convenient as they result in one month's extra payment each year.
Do not set up mortgage payment to come up monthly if you get paid biweekly and some months your pay does not fall in line with the mortgage payment as you end up making a late payment.
That can affect your credit score and financial institutions may penalize you with a higher mortgage rate upon renewal.
Related:The Practical Guide to Purchasing Your First Investment Property
Understanding Gift Money and Down Payment Requirements
Many programs, including the FHA program, allow the use of gift funds. These are funds given to you from a relative, employer, or charitable organization.
Gift funds must be just that – a gift. The donor should not expect repayment. Your lender will need to see proof of the funds to ensure that they belong to the donor and aren't a hidden loan somewhere down the way.
Many loan programs even let you get a loan with no money down. USDA loans and VA loans are the two most popular options, but you must meet the specific requirements.
USDA loans are for low-income families living in rural areas, and VA loans are for veterans or current military members with enough active service.
How to Start A Home Buying Process

Copyright: Image by StockUnlimited
First-time home buyers often feel lost when starting the process. What do you do first? Who do you contact? Here are some first-time homebuyer tips to get you started:
1. Get your finances in order
Make sure you have adequate savings, your income is steady, and you have proof of all of your financials. Don't forget to look at and possibly fix your credit.
2. Get pre-approved
Contact at least three lenders and get quotes for a loan. A pre-approval means the lender approves you based on the listed conditions.
3. Find a reputable realtor
You'll make your life much easier with the right realtor on your side. A realtor will find houses within your budget and that meet your requirements. You won't waste time looking at homes outside of your budget or that don't meet your needs. Realtors also handle the paperwork and negotiations for you.
4. Shop for homes
Once you have all of your ducks in a row, you can shop for homes. Take your time. Your pre-approval should be good for at least three months. If you run out of time, your lender can update the pre-approval, extending the time you have to buy a home.
 
Related post: A Step By Step Guide: How to Get a Mortgage Pre-approval Before You Start Looking For a Home
What Credit Score do you Need as a First-time Homebuyer?
There are several programs available to first-time home buyers, even if you have bad credit.
FHA loans – Minimum 580 credit score with a 3.5% down payment or minimum 500 credit score with 10% down payment
VA loans – Veterans with bad credit may find a lender that will accept a low credit score with other compensating factors, such as a low debt ratio or a sizeable down payment
Subprime loans – Smaller lenders have their own programs, often catering to borrowers with bad credit
First-time Homebuyer Benefits
First-time home buyers have many benefits, including a first-time homebuyer tax credit and other accommodations:
HUD provides many grants and assistance programs specifically for first time home buyers. This may make it possible to buy a home with no down payment or with financial assistance, including interest rate buy-downs
You can borrow money from your IRA if you are a first-time homebuyer. The IRS allows you to take out up to $10,000 for a home purchase without facing the 10% early withdrawal penalty. You will, however, be responsible for the income taxes on the money withdrawn.
First-time Homebuyer Tax Benefits
You may be able to write off the home interest that you pay. The Tax Cuts and Jobs Act made it a little harder to get the write-off, but if you have more deductions than the standard $12,500 for individuals or $12,200 and $24,400, you can take the first-time homebuyer tax credit and reduce your tax liability. The deductions are limited to interest up to $750,000 you borrow.
You may be able to deduct points paid on your loan. Again, if you have more deductions than the standard deduction, you can write off points paid to get the loan or to buy your interest rate down.
Any property taxes you pay throughout the year can be deducted as well. This includes state and local property taxes but has a $10,000 limit on it.
First-time Homebuyers Grants and Programs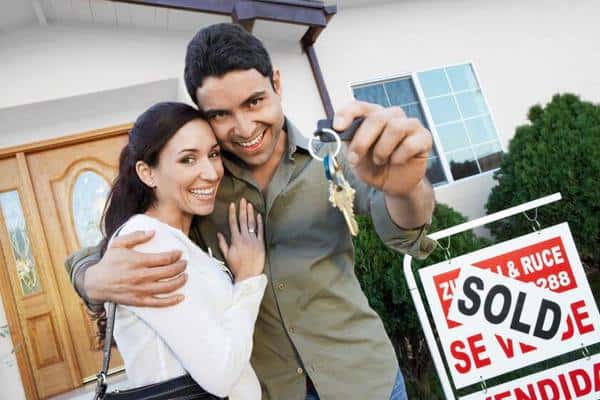 Copyright: Image by StockUnlimited
The hardest part of being a first-time homebuyer is coming up with the down payment. It's the reason many people continue to rent; they assume they need a large down payment so they can't buy a home. Today, though, there are many first-time homebuyer grants and programs available.
First, you should understand what HUD and other national programs consider a first-time homebuyer. Obviously, it includes those that never owned a home before. But, it also includes anyone that hasn't owned a home within the last three years. If you lost your home to foreclosure and haven't owned a home in the last three years, you may qualify as a first-time homebuyer.
Grants Income Requirements for First Time Home Buyer Program
Most programs follow the FHA, USDA, and VA income guidelines and may vary by lender. In general, the following programs are available:
FHA loans which allow 100% of your down payment to be gift funds as long as you have a 580 credit score (if you have a 500 – 579 credit score, you must contribute 3.5% of the down payment)
VA loans don't require a down payment, but you must be a veteran to qualify
USDA loans don't require a down payment, but you must buy a home in a rural area according to the USDA's determination and make less than 115% of the area's median household income
The HomePath Ready Buyer Program run by Fannie Mae provides 3% in closing cost assistance for the first time home buyers that buy a foreclosed property
Many states and counties have local programs that help first time home buyers that include a first time home buyers down payment assistance program, grants, and closing cost assistance
The Good Neighbor Next Door Program isn't just for first time home buyers but is a great way for community-service professionals (teachers, police officers, firefighters, etc.) to buy a home at 50% of the cost
One last program is HUD's HOPE program, which helps low-income families purchase public housing units. HOPE helps with:
Helping the first time home buyers get economically self-sufficient
Provides financial assistance including down payment help and interest rate buy-downs
Counseling and financial training for home buyers
These first-time homebuyer tips about grants, home assistance programs, and tax deductions will help you save money and avoid common mistakes.
 
Home buying resources:
In Conclusion
Buying a home for the first time can seem overwhelming, but there are many resources out there to help you. Even if you don't have the funds for a down payment, don't give up hope.
Between HUD, your state and local government, and the FHA, VA, and USDA programs available, first-time home buyers have many ways to make homeownership a reality.
Use these first-time homebuyer tips to get you started and also explore the first-time homebuyer down payment assistance program, grants, gift funds, and mortgage financing.
 
You may also like the following posts:
What do you think? I would love to hear your thoughts down in the comments section!
PIN ME
Latest posts by Pachalo Mkandawire
(see all)